Radish Identity
Concept / For this project a visual identity system was designed for a fast-casual restaurant concept named RADISH. The concept given stemmed around around healthy eating which can be prepared quickly. Not to be confused with an image that comes off as condescending or elitist about choosing to eat clean.
Intention + Inspiration
The intention was to create a brand identity that would reflect the values and attitude of the restaurant. Through iteration I found myself inspired by the idea of chopped vegetables and ended up designing a system incorporating different colors into the mix to compliment the magenta of the radish.
First Thoughts / In the beginning of the process I wasn't sure if I wanted to pursue a more illustrative approach or if the logotype should be minimal, just consisting of type elements.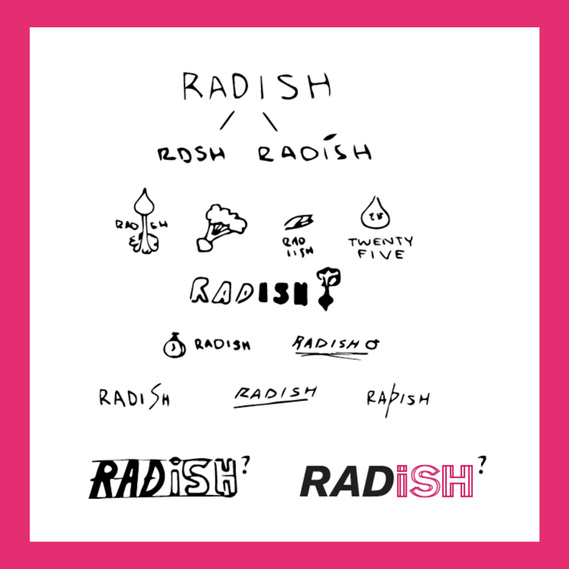 Final Logo
The final solution for this Logotype is an incorporation of both type and illustrative elements. The half and 3/4ths circles that are part of the logo represent sliced vegetables from a side view. The colors can be switched out as necessary for various applications. The RADISH logotype was designed to be simple and clean with a touch of youthfulness by the pop of color.
Lockup
There should be an appropriate amount of space around the logo, no matter what variation the logo has at the time. The top and bottom margins on each side of the logo measure the height of the top outlined half-circle that is placed about the "RA". While the left and right margins measure twice the height of the previously mentioned element. All other areas of the rectangle area should not be occupied.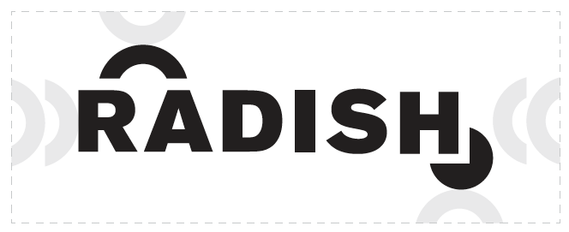 Color Palette + Graphic Elements
The graphic elements was inspired by cut produce, while the color palette follows the color of the produce chosen. Produce items included are: Radish, Yellow Squash, Carrots, Eggplant, and Zucchini.